For Aluminium Sliding Doors and Casement Windows, Associated Glass use REAL Aluminium who offer a comprehensive range of aluminium fenestration products for all domestic installations, manufactured using profiles and components held in stock at the dedicated factory in Gloucestershire. With strong, slim profiles, long lasting quality materials and finish, the REAL Aluminium range covers a full suite of aluminium products. That includes: casement windows, bi-folding doors, sliding doors, residential doors, composite doors, and ultra slim glazed roof solutions.
The REAL Aluminium range of products offer a total solution for any aluminium installation with a selection contemporary or traditional styles. Windows, residential, composite and french door choices include ´Square´, the standard profile style window or ´Featured´, a more traditional profile replicating the ovolo style of a conventional timber window. REAL aluminium is the Customade stock range. Alternative aluminium products and colour are available from Customade.
Compliance with current building regulations is a vital part of every installation and can sometimes be complex. Using REAL Aluminium, meeting the requirements of Part L of current UK building regulations is easy as the entire range is compliant when installed with a double-glazed unit with a U Value of 1.2w⁄m2k and a solar gain of 0.71 or better that is manufactured using an Edgetech Super Spacer Bar or equivalent.
All REAL Casement Windows achieve an 'A'-rating if the above glass unit is upgraded to low-iron glass.
The thermal efficiency of the REAL Aluminium range can be enhanced further by using higher performance double-glazed or triple-glazed units.
REAL Aluminium Casement Windows
All REAL Aluminium profiles use innovative polyamide thermal break technology which generates a barrier between the cold air outside and the warm air inside. This technology crucially reduces thermal transmittance and increases the overall U Value of a product permitting REAL Aluminium casement windows to attain a Window Energy ´A´ Rating when employed in conjunction with the correct double or triple glazed unit.
Pick from two styles available within the REAL Aluminium range: Square, the standard style window or Featured, a more conventional profile replicating the ovolo style of a traditional timber window. Both choices are available internally or externally glazed.
System 1 - Internally Beaded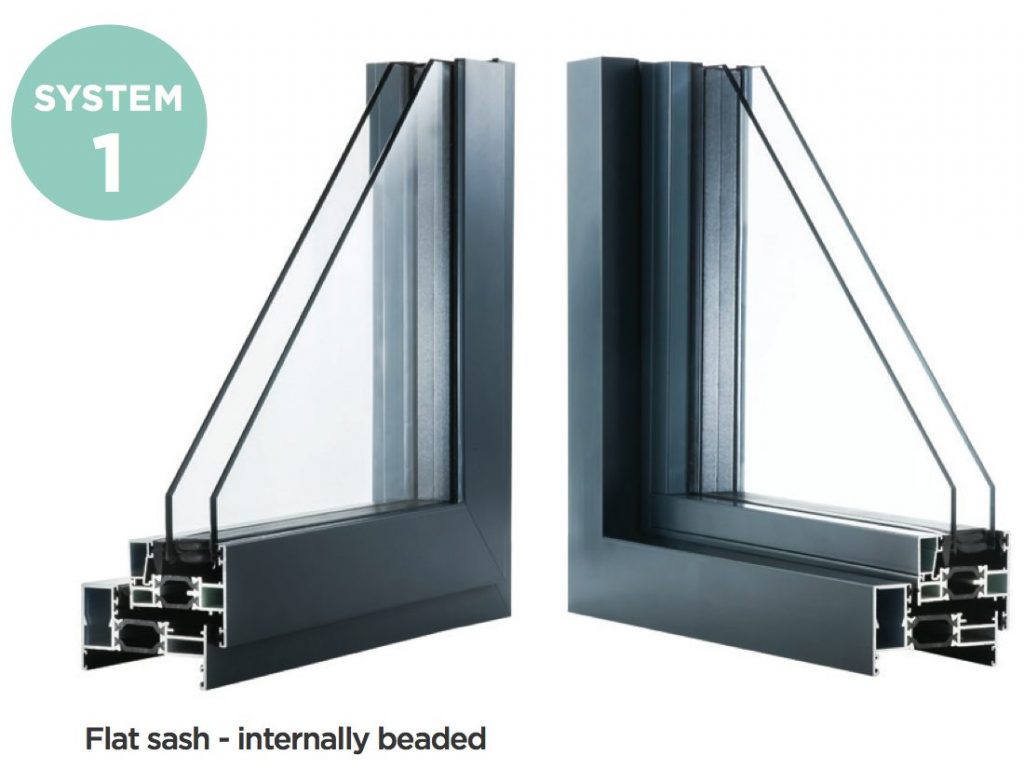 System 3 - Externally Beaded